Contact
Get in touch or visit Patrick at the Reverspective Studio

Patrick Hughes

Reverspective Ltd.
72 Great Eastern Street
London EC2A 3JL
Tel: +44 (0)20 7256 0034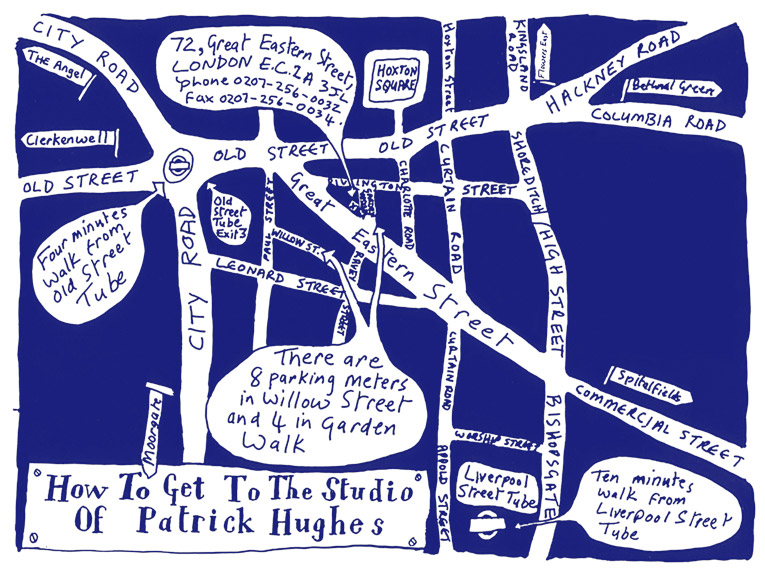 Where to view Patrick's work:
Patrick does not sell work direct to the public, please contact his dealers if you would like to view his reverspective paintings, collages and multiples.

An extensive body of reverspective works can be seen here:
Please note, not all of these works are available.
Portfolio

For contact details of Patrick's galleries, please follow this link:
Galleries representing Patrick

Patrick's latest flat prints and books about and by Patrick can be purchased here:
Online Shop
Current & Forthcoming Exhibitions
Patrick Hughes' work will be on display at these galleries.
Summer Contemporary Exhibition

Group Exhibition
Opens 07.04.2019 until 05.10.2019


Rarity Gallery
20 - 22 N. Kalogera Street
Mykonos 84600
Greece
Tel: +30 (0)22 8902 5761



FaceValue3

Group Exhibition
Opens 18.04.2019 until 28.04.2019


Jealous Gallery
53 Curtain Road
London EC2A 3PT
Tel: +44 (0)20 7739 4107



60 x 40

Group Exhibition
Opens 11.05.2019 until 02.06.2019


Shandy Hall
Coxwold
York YO61 4AD
Tel: +44 (0)13 4786 8465